From Inner Visions to Visionary Art | Amanda Sage – EN32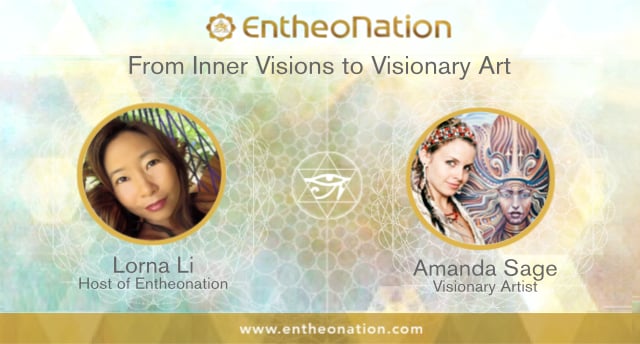 On today's episode we welcome visionary artist Amanda Sage. Amanda has had a long journey with her painting and is here to share all her insight on the subject of translating inner visions into physical art. We have a look at some of Amanda's background and her discovery of her innate ability to channel her inner worlds into beautiful images. Amanda finds that spoken and written language are often a limiting medium, whereas images are a much better vehicle for communicating the unspeakable experiences from her spirit realms. We chat a bit about the history of painting and how Amanda views the timeline of 'visionary art'. She is adamant it is not a new art form at all with many examples of visionary art available. We also go into how to best access these dreamscapes in a world filled with noise and distractions. I asked Amanda about her relationship to mind altering substances and she was happy to share some of the experiences she has had but was equally clear that they are not the foundations of her work. For Amanda, psychedelics are often abused, not shown due respect and even overused by those who do respect them. From there, we also chatted about the message Amanda tries to convey and how to maintain the lessons that these dreamscapes offer us in our day to day activity. All this and more in the episode so tune in!
Key Points From This Episode:
Lorna's new habitat and some of the synchronicity she has been experiencing.
Amanda's backstory and how she found her ability in visionary art.
The transcendence of visual languages as opposed to the boundaries of the spoken.
Amanda's use of medium, dreams and the vehicle of vision.
A timeline for visionary art and defining what can be included in the continuum.
Amanda's visual ability before she started her schooling.
Accessing visionary dreamscapes in a stifling contemporary climate.
Breaking free from the analytical and channelling the collective voice.
Amanda relationship to entheogenic agents and her first LSD experience.
The evolution of Amanda's art and the influence of the community.
How Amanda views the message of her work and some themes from her art.
The shifting of consciousness as the cause of Amanda's work.
Implementing and carrying the inspiration of the visions into everyday life.
Sharing visionary spaces and communal journeys into these.
Amanda's most far visionary experience.
And much more!
Tweetables:
"Creativity is something that we use in our lives at all times." — @amandasageart [0:08:27.3]
"I find that what visionary art to me really means is that it is medicine." — @amandasageart [0:10:44.2]
About Amanda Sage
Amanda Sage is at the forefront of a new breed of visionary/interdimensional artists using art as a tool for personal, spiritual, planetary growth and transformation.
Amanda was born April 19, 1978 in Denver, Colorado to her mother YOU and father Jackson, with two brothers still to come. Her childhood was filled with healthy, tropical, media-free, creative freedom in Florida without the distraction of formal schooling until she entered 4th grade in Colorado.
After finishing high school in Boulder, Colorado in 1996 at the Shining Mountain Waldorf School (where 'coincidentally' her high school art teacher was the Fantastic/Visionary artist HIKARU), her travels and projects bounced her between Bali, Indonesia and Vienna, Austria.
Sam Bull from Leap Now helped guide her in connecting with the revolutionary midwife Robin Lim in Bali, and initiating the first contact with the artist and teacher Philip Rubinov Jacobson.
After graduating she went to Bali as a volunteer for close to a year, and amongst other projects & exotic distractions, illustrated an herbal book with over 70 indigenous plants and herbs for the natural Birthing Clinic, now called Bumi Sehat. In this time she also extended production of her Batik clothing and design project that she had started in high school with her dear friend Leilea Satori, and this continued on amidst bouncing around the globe between the US, Vienna and Bali till the year 2000.
Through meeting Philip Rubinov Jacobson and Michael Fuchs in 1996, she was invited to do a private 2 year intensive experiment to study the techniques of painting and etching of the old masters as an apprentice under the classical/fantastic artist Michael Fuchs in Vienna Austria.
Following this in 1999 Michael introduced her to his father, internationally famed godfather of Fantastic and Visionary Art, Ernst Fuchs and has since been a student and painting assistant on various projects throughout Europe.
Michael taught her to "see" the world around her through the brush and the Old Master techniques in painting. Ernst reminded her to "listen", which opened up other ways of "seeing" and perceiving.
Since 2000 Amanda has been blessed with sharing a beautiful studio in the WUK, a self-governed culture house in Vienna (the biggest one of it's kind in Europe), with her friend and colleague Paula Aguilera Pacheco a sculptor, painter and animator originally from Chile. The WUK has been an amazing playground for learning, creating and discovering new systems of group-interaction and presentation. She served for 2 years as a member of the Board of Directors of the WUK, and then for 6 years as Administrator of one of the major sections of the studio's and workshops together with Paula, as well as initiating and organizing various events the largest being the 'MAZE' an open studio's event in 2005 & 6. This provided her with community, as well as space and time to discover her own visions, share questions and absorb information.
She has exhibited Solo and in Group Shows in Galleries, Salons and in various projects/events worldwide since 1999, including London, Vienna, Munich, Berlin, Bali, Colorado, Seattle, San Francisco, Moscow, Australia, Colombia and most exotically at Burning Man , hanging next to renowned visionary artists and friends such as Alex Grey & Allyson Grey, Martina Hoffmann, Robert Venosa, Android Jones, Luke Brown, Autumn Skye Morrison, Aloria Weaver, David Heskin & many amazing artists involved in the growing movement of Visionary Art.
Amanda is currently represented in various galleries & online collectives such as the Tribe 13, which has been bringing visionary art to festivals & gatherings worldwide for over 10 years. Her work was featured in the Scope Art Show at Art Basel Miami Beach in 2013 through Tribe 13. The Temple of Visions, a Gallery & Sacred Space in downtown Los Angeles from 2010-12 was a powerful hub that she helped initiate. Galerie 10, a gallery dedicated to Fantastic Realism in Vienna since 1964 has carried her work since 2002. She has also been exhibiting with The Society for the Art of Imagination since 2001. Her work has also been featured in the online collective Beinart.org which been exposing unknown imaginary artists from all over the world through the boundlessness of the internet, as well as many other group exhibitions and affiliations. Some of the artists she met that she met through Beinart.org and have become dear friends are Carrie Ann Baade and Christopher Ulrich.
Since 2009, Amanda has been primarily based in Los Angeles where she has been featured in many group exhibitions at the Hive Gallery, Gregorio Escalante Gallery, Copro Gallery, La luz de Jesus Gallery, Cannibal Flower, The DoArt Foundation and Peace Yoga Gallery as well as collaborating in various art projects and LIVE painting at events. She has also made her debut teaching at the annual Visions in the Mischtechnik Seminar in Italy 2010, with notable artists Laurence Caruana, A.Andrew Gonzalez, Daniel Mirante & Maura Holden. She also offers a workshop series called 'Painting with Light', held so far in Colorado, Chicago, Australia, Vienna and New York.
In 2014 she founded the Amanda Sage Collection together with friend and designer Shabnam Q in Los Angeles, creating wearable art out of her images.
In 2016 she joined forces with Joe Bob Merritt in life and love and they are working to create a culture cultivator project, called South Main Gunnison, located in Gunnison, Colorado. An industrial park for good, with a somatic arts studio and workshops for wood, metal, ceramics and painting; the debut painting workshop intensive, 'Mixtec & Mystics' will be held there in May 2018.
Links Mentioned in Today's Episode:
EntheoNation Podcast Episode 13
EntheoNation Podcast Episode 14
EntheoNation Podcast Episode 19
Medicine Music for the Soul
Inspired by the words of Swami Sivananda, one of the great yoga masters of the 20th century, "Namaste" reminds us that the eyes of God are as close as the person next to us. The literal translation from Sanskrit is sung in the choruses, while the verses provide a more expanded meaning.
Lyrics:
Namaste Namaste
Namaste Namaste
Namaste
The spirit in me sees the spirit in you
I see your being
Perfect and shining
I see your soul
Beyond it all
I see your spirit
And myself in it
Feels like I know you from long ago
I bow at your feet
You are whom I seek
I see the divine
In your soul
May the spirit within me
Honor your infinite beauty
And sing you a song
Soul to soul
Namaste…..
Acknowledgement: